Awards & Recognition
We are planning to get more achievement in future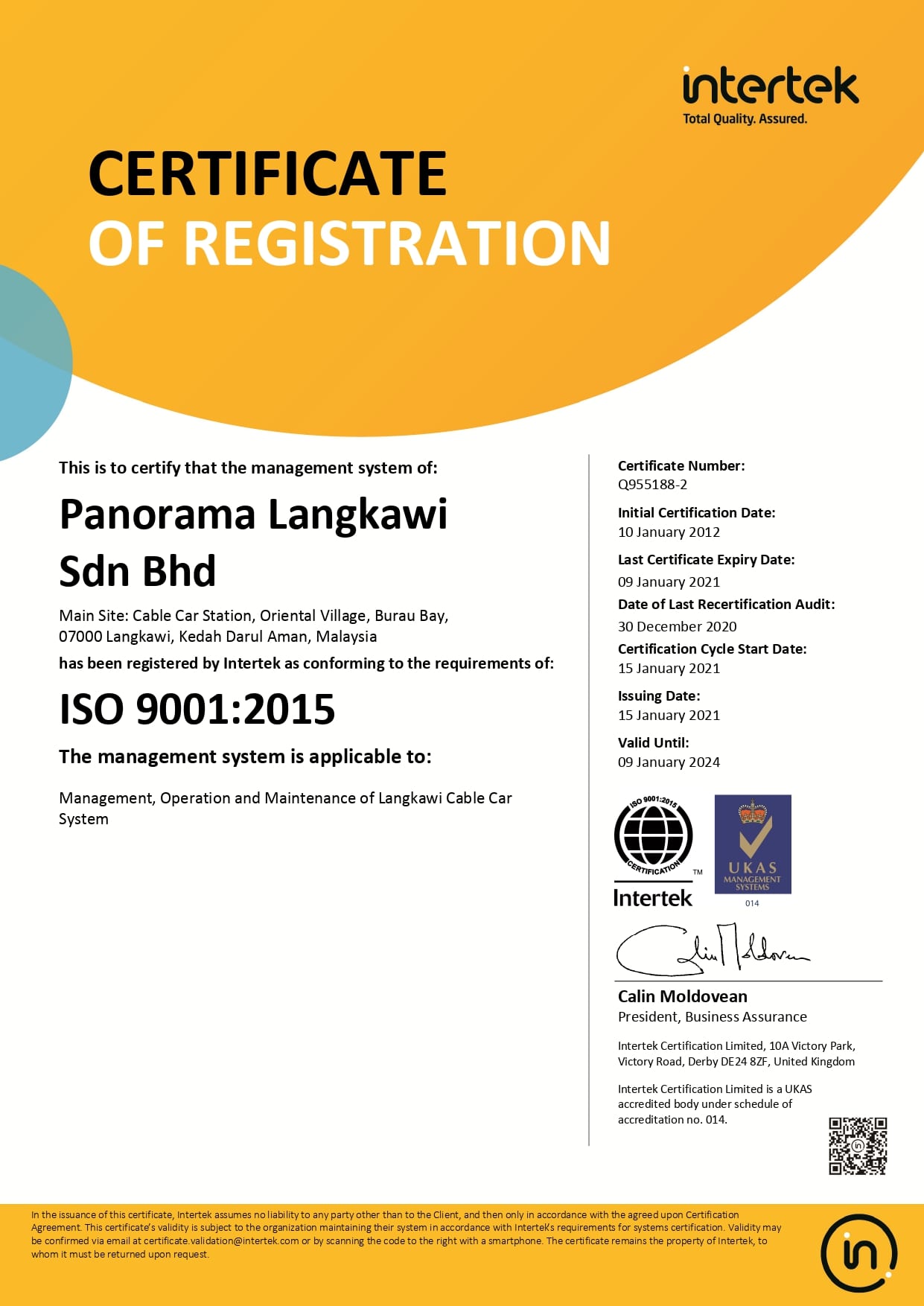 Certificate of Registration
Panorama Langkawi has been registered by Intertek as confroming to the requirements of ISO 9001:2015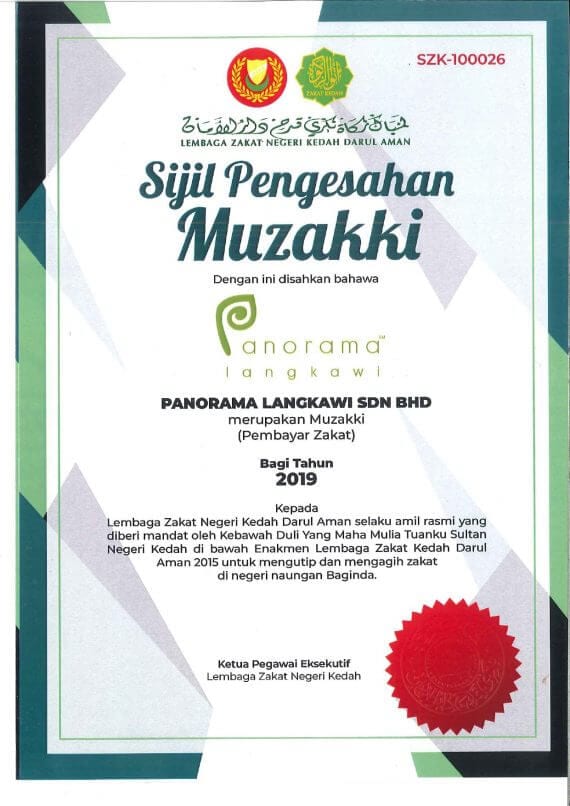 Lembaga Zakat Negeri Kedah Darul Aman
Panorama Langkawi disahkan bahawa merupakan Muzakki (Pembayar Zakat) Bagi tahun 2019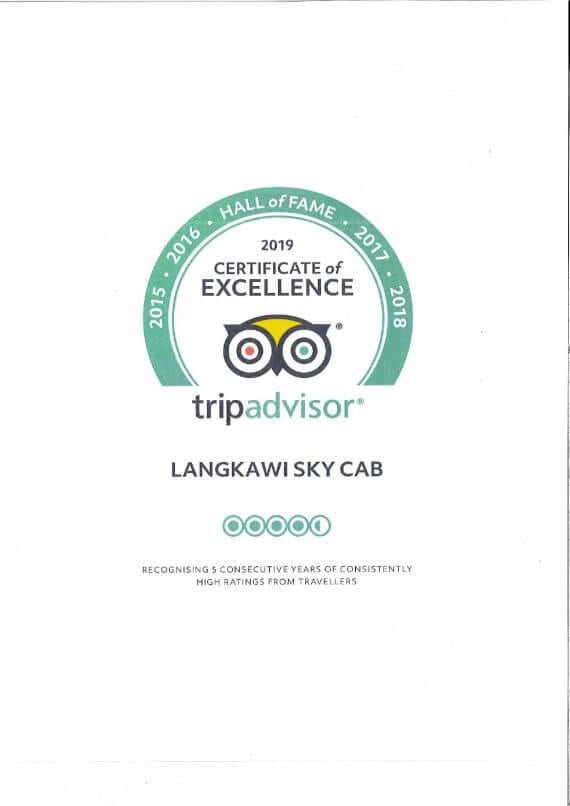 Tripadvisor
Panorama Langkawi won an award of "Hall of Fame 2019" for winning Certificate of Excellence 5 times in a row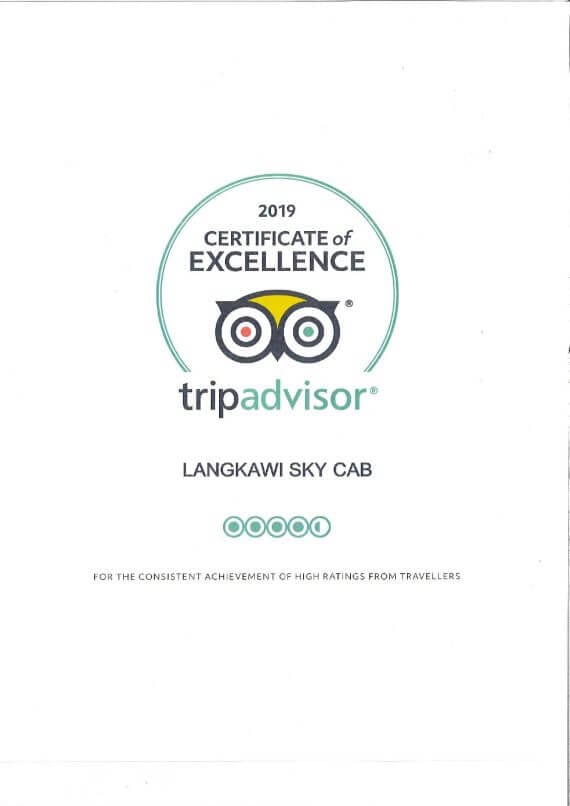 Tripadvisor
Panorama won an award of "Certificate of Excellence" from Tripadvisor based on the following rating by guests on Tripadvisor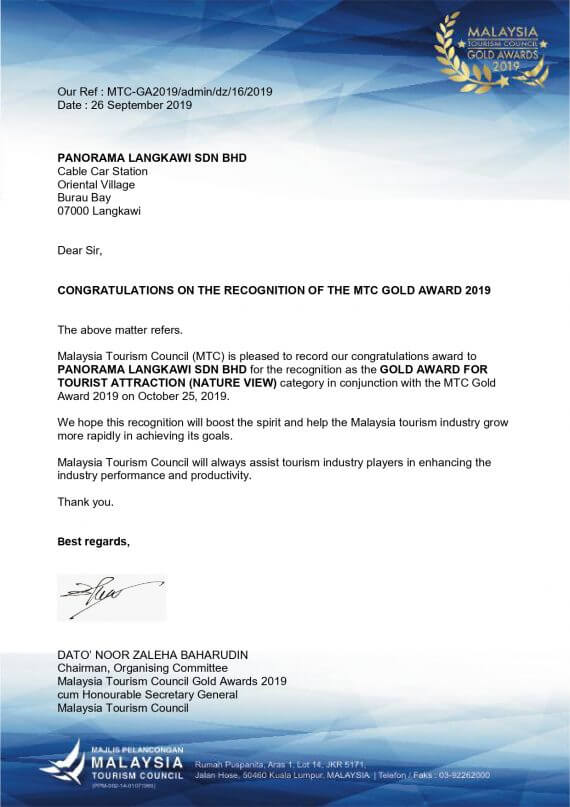 Malaysia Tourism Council Gold Awards
Panorama Langkawi won an Gold Award for Tourist Attraction (Nature View)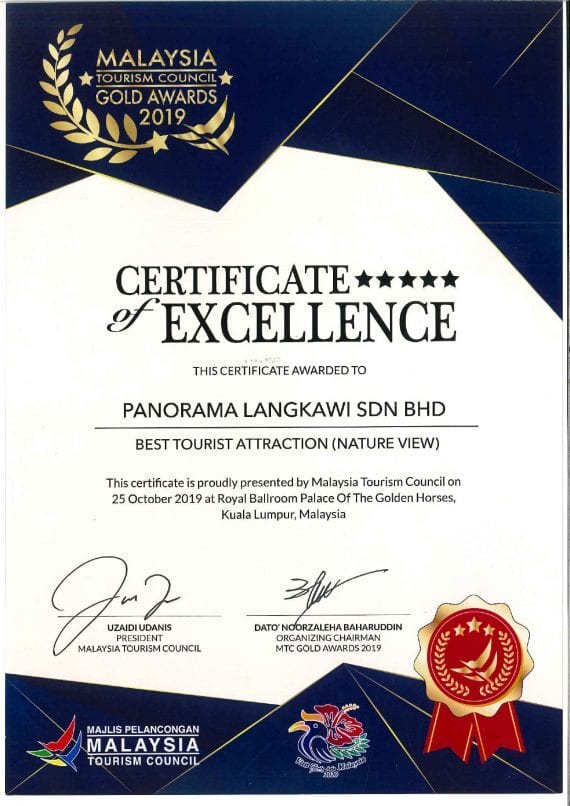 Malaysia Tourism Council Gold Awards
Panorama Langkawi won an award of "Certificate of Excellence" (Best Tourist Attraction : Nature View)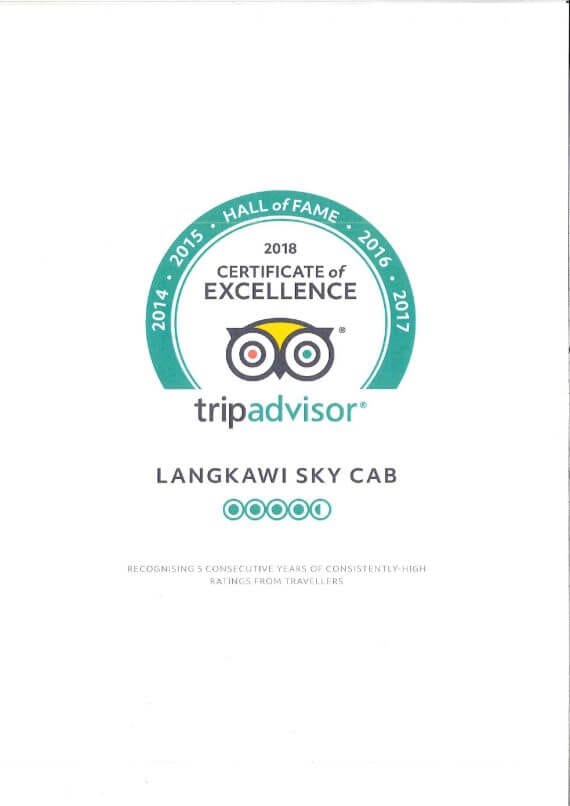 Tripadvisor
Panorama Langkawi won an award of "Hall of Fame 2018" for winning Certificate of Excellence 5 times in a row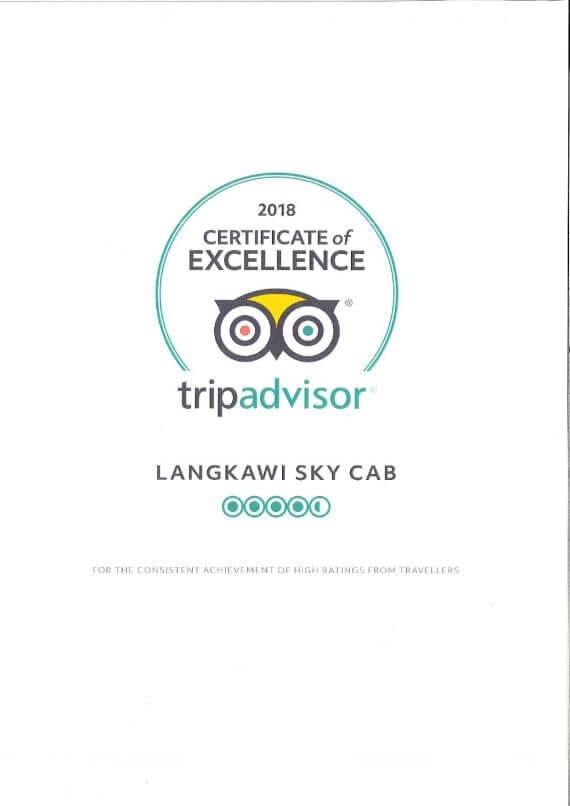 Tripadvisor
Panorama Langkawi won the Certificate of Excellence from Tripadvisor 2018 based on the following rating by guests on Tripadvisor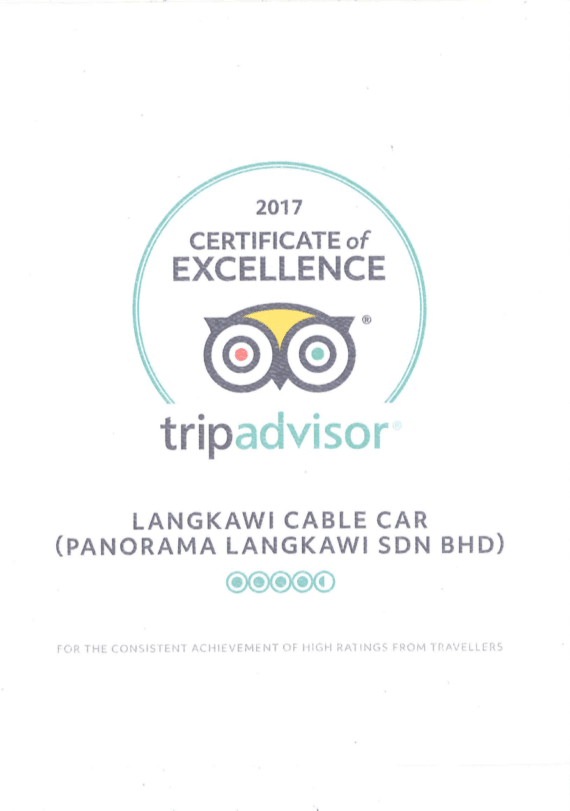 Tripadvisor
Panorama Langkawi won the Certificate of Excellence from Tripadvisor 2017 based on the following rating by guests on Tripadvisor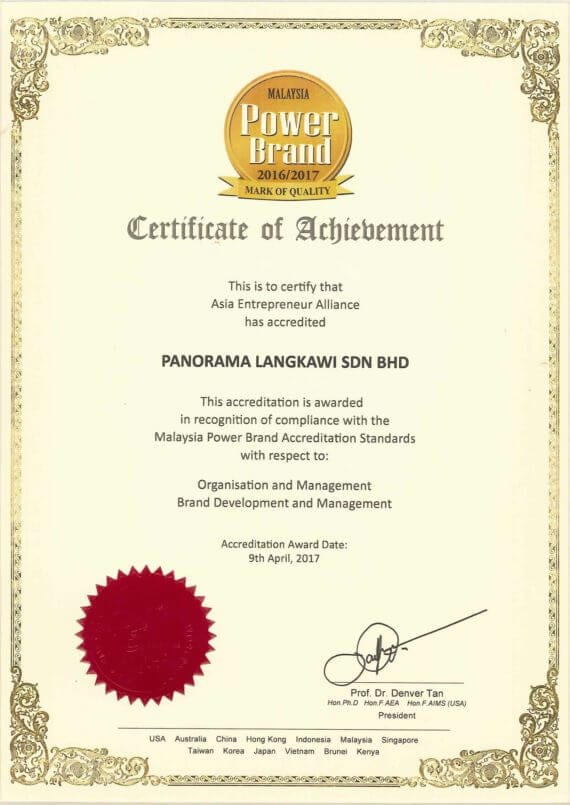 Malaysia Power Brand
Panorama Langkawi has accredited Certificate of Achievement from Malaysia Power Brand Malaysia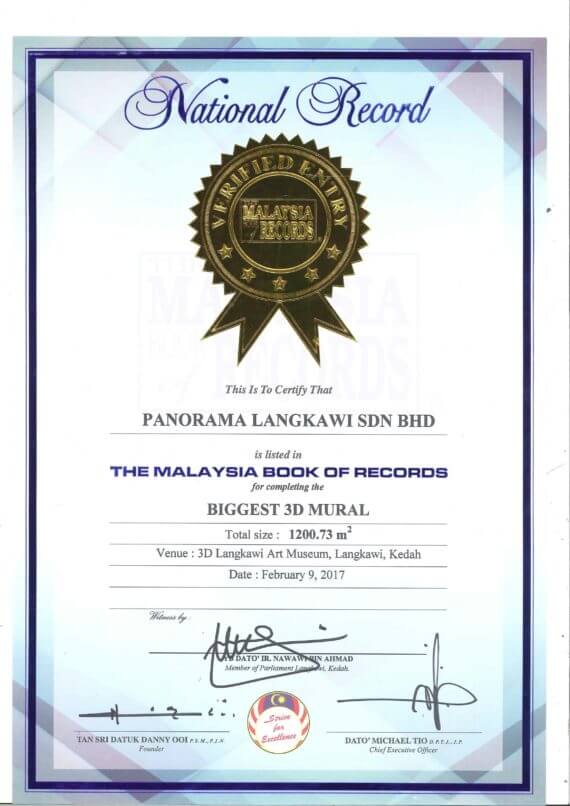 The Malaysia Book of Records
Won an award for completing the Bigges 3D Mural of the total size of 1200.73m²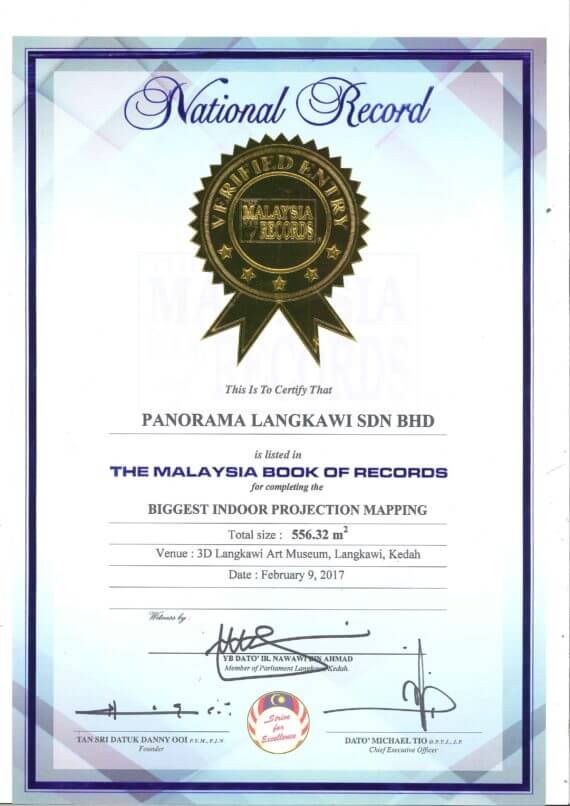 The Malaysia Book of Records
Won an award for completing the Biggest Indoor Projection Mapping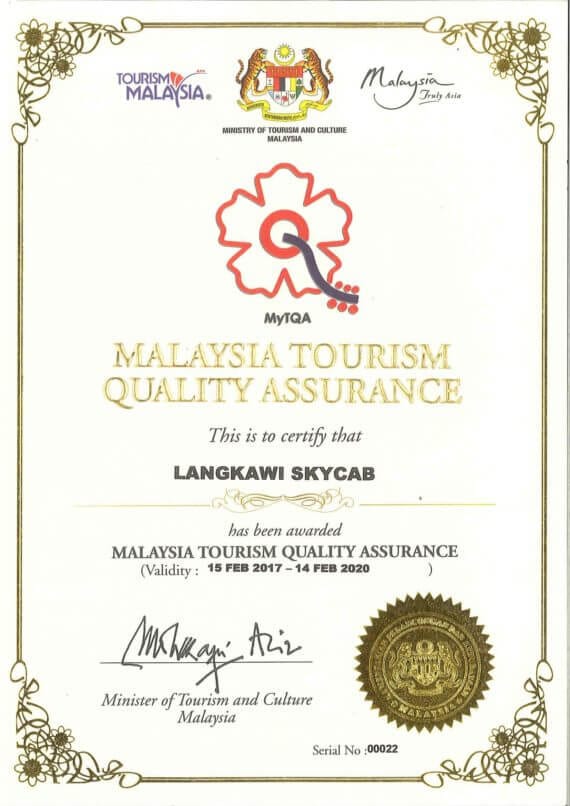 Malaysia Tourism Quality Assurance
Langkawi SkyCab Has been awarded Malaysia Tourism Quality Assurance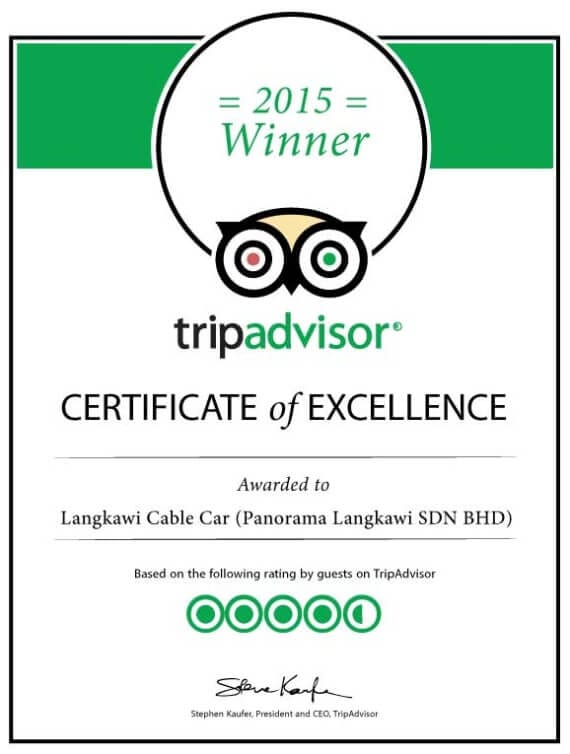 Tripadvisor
Panorama Langkawi won the Certificate of Excellence from Tripadvisor 2015 based on the following rating by guests on Tripadvisor
Certificate of Registration Intertek
This is to certify that the quality management system of Panorama Langkawi Sdn Bhd has been assessed and registered by Intertek as conforming to the requirements of: ISO 9001:2008. The quality management system is applicable to the management of the quality aspects related to: Management Operation and Maintenance of Langkawi Cable Car System.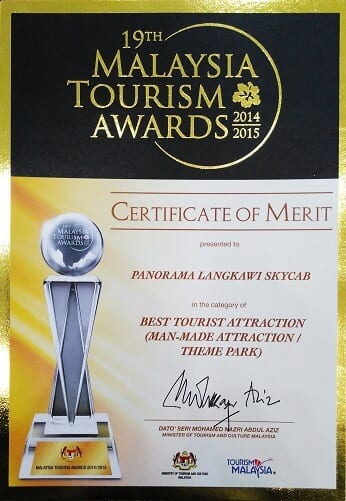 Malaysia Tourism Awards
Panorama Langkawi awarded the Certificate of Merit for Best Tourist Attraction (Man-Made Attraction - Theme Park)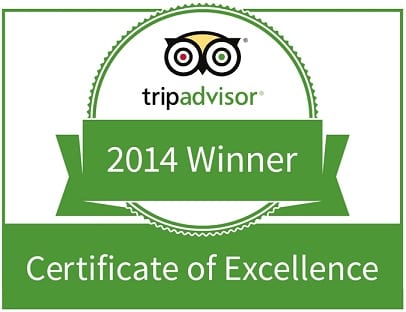 Tripadvisor
Panorama won an of "Certificate of Excellence" from Tripadvisor based on the following rating by guests on Tripadvisor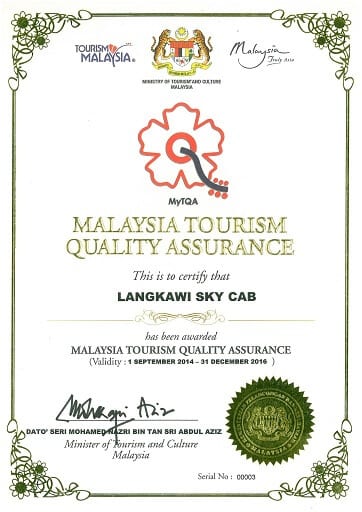 Malaysia Tourism Quality Assurance
Langkawi SkyCab Has been awarded Malaysia Tourism Quality Assurance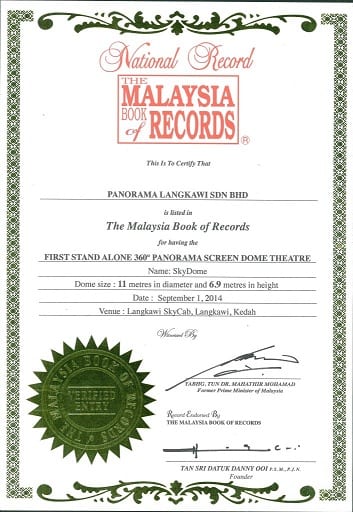 The Malaysia Book of Records Awards
Won an award for having the First Stand Alone 360 Panorama Screen Dome Theater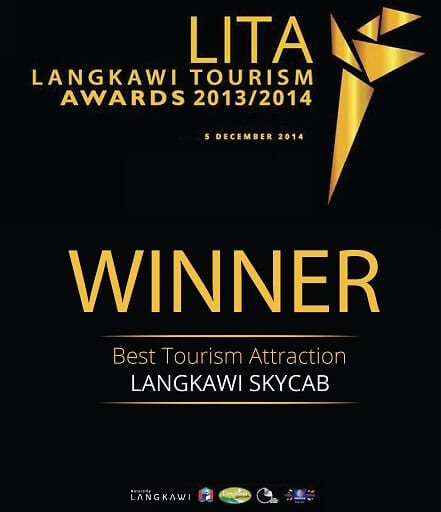 Langkawi Tourism Awards (LITA)
Panorama Langkawi won an award - Best Tourism Attraction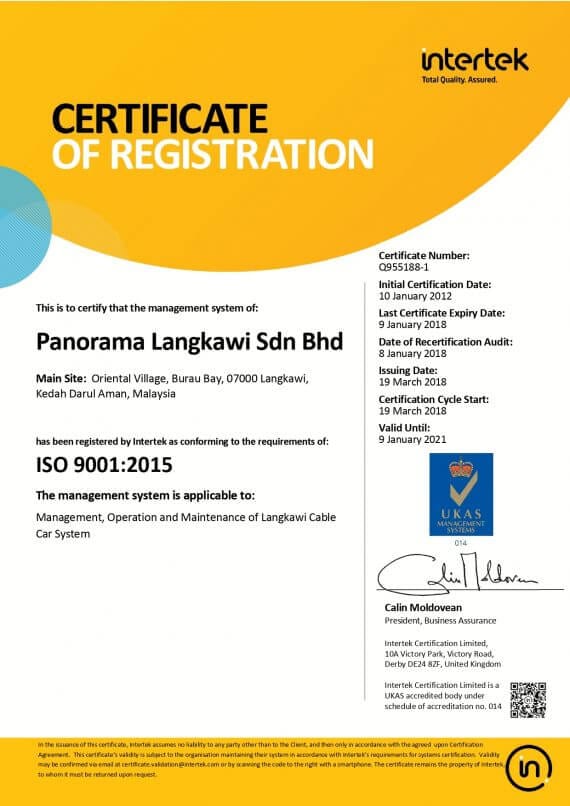 Certificate of Registration
Panorama Langkawi has been registered by Intertek as confroming to the requirements of ISO 9001:2015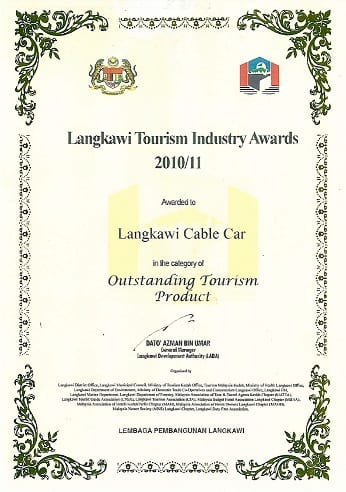 Langkawi Tourism Industry Awards
Won an award from Langkawi Tourism Industry for Outstanding Tourism Product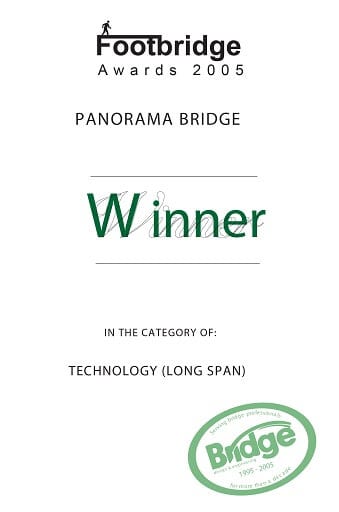 Footbridge Awards
Won an award in the category of Technology (Long Span)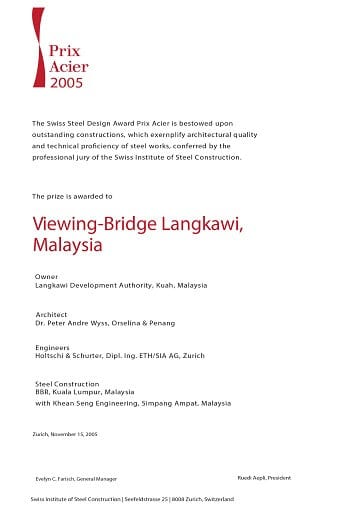 Prix Acier
The Swiss Steel Award Prix Acler is bestowed upon outstanding construction, which exemplify architectural quality and technical proficiency of steel works, conferred by the professional Jury of the swiss institute of Steel Construction.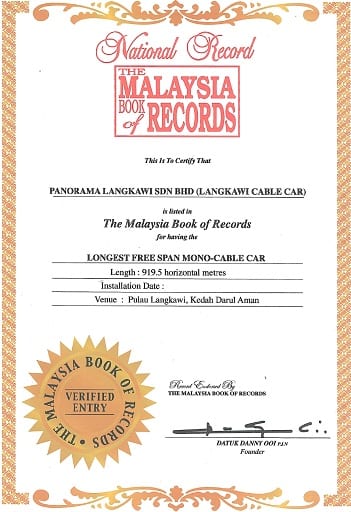 The Malaysia Book of Records Awards
Panorama Langkawi has won an award for the longest free span mono-cable car for the length of 919.5 horizontal metres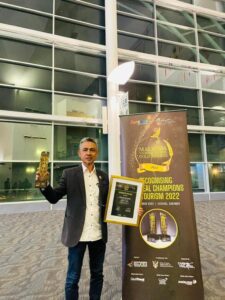 We are proud to announce that Panorama Langkawi Sdn Bhd has been awarded the "Gold Award Tourist Man-Made Attraction" by Malaysia Tourism Council Gold Awards 2022. Congratulations to all!!! T A H N I A H!
Read More »